RDU Airport Taxi Service
When traveling through Raleigh, North Carolina, it is important to find the best possible transportation for your needs. If you are looking for Raleigh airport taxi service, My RDU Airport Shuttle can help. Using safe, reliable airport transportation can help take some of the worries and stress out of air travel. Parking hassles will be a thing of the past. You will be picked up and dropped off at a convenient location which is close to the arrival and departure areas of the RDU airport.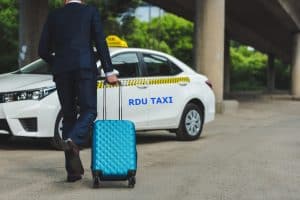 For Immediate Service

Local Attractions
The Triangle area has many fine hotels and attractions. Our RDU airport taxi service can take passengers from the airport to any point in Raleigh or in the Triangle. We offer point-to-point transfers, airport-to-airport rides, and airport-to-city destinations in Chapel Hill or Raleigh-Durham. The University of North Carolina at Chapel Hill and Duke University are within our coverage area.
Our Services
Our Raleigh airport taxi service is perfect for individual transportation or for groups. Whether you are traveling alone or with friends, you will be able to receive a prompt and courteous ride to your destination. We pride ourselves on our fleet and on our drivers.
Safety is important to My RDU Airport Shuttle. Our taxi fleet is in excellent repair, and our experienced drivers provide courteous and professional service to all of our customers. When you choose to ride in one of our taxis, you can be assured that you will reach your destination in a safe and timely manner.
We have experience in both small and large group transportation, and our services allow us to be fully equipped for any travel requests of our customers.
Currently, RDU Airport Shuttle Service include the following:
Point-to-point
Airport-to-airport
Airport to city destinations within Raleigh, Durham, Chapel Hill, Garner, Pittsboro, Clayton, Pinehurst, and  Southern Pines NC
Small group transportation
Limousine Services
Pinehurst Golf Shuttle
Call now and ask about our rates to our most popular downtown Raleigh route destinations
Shuttle Services
My RDU Airport Shuttle also provides shuttle services between the airport and fine hotels in downtown Raleigh. The shuttle services the Raleigh Marriott City Center, the Marriott Residence Inn, the Sheraton Raleigh, the Holiday Inn Downtown, and the Doubletree by Hilton Hotel Raleigh-Brownstone-University. This shuttle can be reserved in advance.
Another convenient shuttle service provided by My RDU Airport Shuttle runs between the airport and the Pinehurst Golf Club. Located only 1 hour and 20 minutes from the airport, Pinehurst is a world-class golf course and resort.
Our company also offers a shuttle service to the Greensboro Furniture Market. Industry professionals and interior designers visit the Market to take advantage of the quality and excellence of American-made furniture. The Greensboro Furniture Market is located 77 miles from Raleigh with a drive time of 1 hour and 20 minutes.
Choose the Best
When you want to travel easily around the Raleigh area, consider our shuttle services and RDU taxi cab.
When choosing an RDU airport taxi, you have many different options. Let our excellent customer experience and convenience help you enjoy your trip to or from Raleigh even more. Taking a taxi to and from the airport will reduce your stress and help you get the most out of your travel time. Our shuttle services can also provide convenient service between Raleigh, Pinehurst Resort, and the Greensboro Furniture Market.
Contact us to make your reservation and we will answer any questions you have about our company and our services.