Providing Southern Pines NC Airport Shuttle Transportation Services
If you have a trip out of RDU, it can be a hassle to get there from Southern Pines. You could ask a friend, but not everyone will have the availability to get you there on time. Driving yourself is another option, but who wants the expense of parking their car at the airport?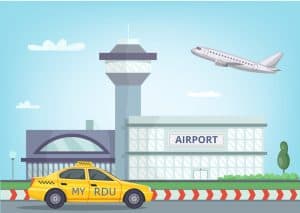 There is a better way! My RDU Airport Shuttle Service provides a convenient  Southern Pines NC airport shuttle service, to and from the airport. For example we provide transportation from the following airports to Southern Pines CLT – Charlotte, PTI/GSO – Greensboro and FAY- Fayetteville. We also service Pinehurst Resort, Aberdeen, Carthage, Whispering Pines, Seven Lakes, Vass, Sanford, Fayetteville, and Moore County.
We specialize in the following services:
Transportation for small groups of up to six passengers
Airport to city transportation for the Raleigh Triangle area, Durham, Chapel Hill, Garner, and Southern Pines
Transfers from airport to airport in NC
Point to point trips within our service area
Limousine services for any occasion
Our shuttle services include the following options:
Why Should You Choose RDU Airport Shuttle?
Reliable – When you call a cab or limo service, you will certainly need them to be reliable. Your flight will not wait for you, reliable transportation is needed to be on time. MY RDU Airport Shuttle takes all the worry out of transportation, and you're always on time.
Affordable – While other companies charge expensive rates for cab or limo services, we pride ourselves on our affordable prices. We understand that traveling can be costly, and that's why we provide transportation services that won't break the bank. If you want to save money on your traveling expenses, contact My RDU Airport Shuttle.
Safe – Along with providing reliable and affordable transportation services, MY RDU Airport Shuttle provides a safe ride. Our vehicles are checked routinely, and we always keep up to date on all the regular maintenance. Also, our drivers undergo extensive background screenings and drug testing. We also carry hefty insurance on our vehicles for added peace of mind.
Relaxing – Traveling can be stressful enough, especially if you are traveling for business. That's why we offer a stress-free, relaxing way for you to get to the airport or anywhere else around the Southern Pines area of North Carolina. Why add to the stress of traveling by driving yourself to the airport? Just kick back and relax and leave the driving to us.
Contact RDU Airport Shuttle Today
When you have a flight to catch or you need a dependable Southern Pines NC airport shuttle or surrounding areas including Pinehurst Resort, Southern Pines, Aberdeen, Carthage, Whispering Pines, Seven Lakes, Vass, Sanford, Fayetteville, and Moore County, please contact MY RDU Airport Shuttle.
For your added convenience, you can even book a ride through our easy to fill out online form and receive an extra 10% off your total price.
Click Here to Schedule an Appointment or Call Now at 919-728-0195